Tahmeena Ahmed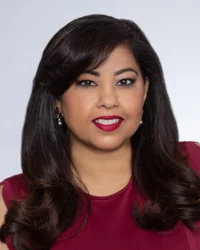 , chief marketing officer and executive managing partner of client relations at the Law Offices of Bradford & Barthel, is celebrating her 25th anniversary as a cornerstone at the firm.
Ahmed, who also goes by "Tia," first joined the firm on July 13, 1998, only to move up from associate attorney to a managing attorney by 2000. She then made partner in 2002 and later became a senior equity partner.
During those first few years, the firm was what founding name partners Tom Bradford and Don Barthel would call a small operation with a great deal of potential. As the firm grew in the early 2000s, the firm's Tarzana office grew from two attorneys to as many as 24 attorneys under Ahmed's leadership. The firm continued to grow statewide as well, which led Ahmed to play a strong role in promoting expansion and opening of new offices, including the firm's offices in Los Angeles, Woodland Hills, and most recently, Bakersfield.
Patricia Carlos, managing partner of the Woodland Hills office, said, "Tia was instrumental in making the Woodland Hills B&B office (formerly Tarzana) an integral and important part of the firm – growing it, eventually splitting it, and creating the LA office. Her vision is to grow, but to never allow growth to impact the level of customer service we provide clients."
Sue Bradford, director of human resources, praised Ahmed's tireless efforts over the years.
"I remember when Tahmeena was the managing attorney in the Tarzana office," she said. "She led by example, working long hours and weekends. She was and still is an active listener, and I believe that is a skill that she is definitely an expert at."
Sue Bradford noted that Ahmed has also helped mentor many of the firm's attorneys and partners throughout the years, and encouraged many young employees to get their law degrees and become attorneys.
"Thank you, Tia, for 25 years, it just seems like yesterday," she said. "Time flies when you are around great people, and it certainly flies when we're together."
Due to Ahmed's thousands of connections over her career with work comp professionals on both sides of the aisle, she was the natural choice to become the chief marketing officer and executive managing partner of client relations in 2012. In that role, Ahmed oversees and curates the firm's relationship with its 350-plus clients, and works with brokers, claims managers, reinsurers and employers of all sorts.
This includes the creation of unique litigation programs, claims reviews, attorney retention, quality assurance, and complex litigation strategies. While that may sound complex, it is a fancy way of saying that Ahmed excels at problem-solving in a people-friendly manner.
Founding partners Tom Bradford and Don Barthel had high praise for Tahmeena's work over the years, noting her strong work ethic and creative approaches to help make the world a better place.
"I remember back in the day when Tia worked in her office as her beautiful preschool daughters entertained themselves around her desk," Barthel said. "No matter how hard she worked, the girls could rest assured that Mom had their back! Over two decades have gone by and those girls are now young women with degrees from prestigious universities. They are ready to make a huge impact on the world, just like Tahmeena and Naseem (her husband) taught them. Congratulations, Tia, on your incredible achievement both inside and outside the office. You truly make the world a better place."
Tom Bradford pointed out that Ahmed has made priceless contributions to the firm over the years, whether it has been through spirited litigation, client solutions, and recruitment of top-tier talent.
Mark Fletcher, firm wide managing partner, also works closely with Ahmed on numerous projects and praised her winning attitude and professionalism.
"Tahmeena is the best," he said. "She is talented, smart, and relentlessly hard working. I am so grateful for the opportunity to work with someone of her caliber. The last 25 years have been great. I look forward to what the next 25 years will bring. She is a good friend, a great partner and central to the success of the firm."
Zane Uribarri, a partner in the firm's Ontario office, gave some perspective on what a pleasure it is to learn and grow under Ahmed's leadership.
"Many of you will know her from being an opponent on a case, a codefendant, an expert in a file review, but what I wish all of you could see and experience the level of care and mentorship which she provides to newer attorneys, to help us grow not only as litigators, but as problem solvers," he said. "The idea of resolving a claim or resolving a problem is not just an option for Tia, it is what she does every time she encounters a situation. She is not there to delay or defer, but she is there to solve and resolve."
Uribarri pointed out that what separates Ahmed from others is her ability to bring a warmth and sincerity to workers' compensation claims handling, which gives her a compelling and commanding presence during claims reviews.
"Tia serves as a spearhead on our marketing efforts, our file handling efforts, and our quality assurance efforts," he said. "Tahmeena, you have our admiration, our respect, and more importantly the confidence of the clients we assist every single day. For that, they and us could not be more grateful. Congratulations on 25 years and, to many more."
Tahmeena I. Ahmed is the chief marketing officer, executive managing partner of client relations, and senior equity partner at the Law Offices of Bradford & Barthel's Woodland Hills office. If you have workers' compensation defense issues, or just want to drop Tahmeena a friendly message, please feel free to contact her at tahmed@bradfordbarthel.com or by calling 818.654.0411. Ms. Ahmed is also available on LinkedIn as well.
Viewing this website does not form an attorney/client relationship between you and Bradford & Barthel, LLP or any of its attorneys. This website is for informational purposes only and does not contain legal advice. Please do not act or refrain from acting based on anything you read on this site. This document is not a substitute for legal advice and may not address every factual scenario. If you have a legal question, we encourage you to contact your favorite Bradford & Barthel, LLP attorney to discuss the legal issues applicable to your unique case. No website is entirely secure, so please be cautious with information provided through the contact form or email. Do not assume confidentiality exists in anything you send through this website or email, until an attorney/client relationship is formed.