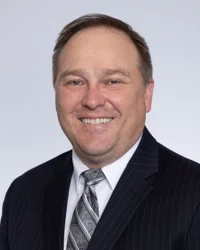 One of Bradford & Barthel's top workers' compensation defense attorneys has written a new book taking a deep dive into the murders of more than a dozen young women in South Florida during the 1970s.
Michael Burns is a partner at The Law Offices of Bradford & Barthel's San Jose office by day, and cold case investigator by night.
In his new nonfiction novel, The Flat Tire Murders: Unsolved Crimes of a South Florida Serial Killer, Burns takes a much closer look at how the state's expansive network of canals served as a convenient dumping ground for murderers in the state. It is his first book.
"My interest in writing this book came about as the convergence of two interests, namely true crime and my experience growing up in South Florida," Burns said via email. "I am a third-generation Miamian and despite moving to California in 2002 for law school, I hold my former hometown in high esteem. Researching South Florida has been an occasional pastime, and when I discovered that there was a series of unsolved murders in South Florida in the 1970s, I decided that this story should be told."
Burns begins the book by laying an efficient but informative background of how South Florida's unique geography and explosion of crime in the 1970s created an environment where serial killers could flourish.
Rather than cite from one source or talk to one person, Burns researched thousands of news sources, medical examiner documents, and law enforcement records. He also interviewed numerous detectives, and Kevin Sullivan, a Ted Bundy expert who has authored several books, to help provide a strong factual background.
It was this hard work that fills the book with fresh and colorful details about the victims – who are all female – that make it easy to envision the innocent victims' struggles against an unexpected attacker, and provide clues to the heinous crimes.
For instance, Burns wrote the following quote in a passage about a secretary who successfully fought back against one suspect and screamed while doing so, causing the attacker to flee.
"Frightened by the screams, the attacker ran out the door and into the night, the apartment showing the severity of the life-and-death struggle: a coffee table with several candles, a dish of candies, and a box of detergent had been toppled; two pocketbooks lay on the floor; and a Raggedy Ann doll rested in a black leather beanbag chair, partially covered by a cracked album cover."
Later, he quotes a detective as saying, "There's no doubt about it, he was trying to kill her."
Burns said that the 2020 pandemic provided him with a unique and ideal opportunity to pour his weeknights and weekends into researching the murders. It took him about four months to perform the bulk of the research.
"Unfortunately, the closure of many agencies delayed the receipt of police documents," he said. "However, I was fortunate enough to promptly receive important documents from the medical examiner's office. I was also able to locate several detectives who worked on these cases 45 years ago."
Burns credits the detectives with providing him with valuable insight to helped identify the existence of evidence that could possibly solve these cold cases.
"I was not expecting much because 45 years had passed since the murders, but to my surprise the detectives were quite clear on their prime suspect, as well as their recollection of the facts," he said. "It was quite interesting to interview homicide detectives, particularly detectives that worked in the 1970s. I do not have any law enforcement officials in my family so this was a brand new experience. They were gracious and extremely knowledgeable."
After completing the book, Burns and his publisher, McFarland and Company, took about two months to edit the manuscript and get the book to press. Since the release of the book, the author said that his colleagues in the workers' compensation community have provided him with a warm reception.
"I've spoken to a few colleagues in the workers' compensation community about the book and they have been incredibly supportive and kind," Burns said. "In workers' compensation, the attorneys, for the most part, have good relationships with one another and I was honored to inform my colleagues that this book was being published."
The author has also been featured on multiple true crime podcasts where he discusses the cases.
"I've done four interviews so far with True Murder with Dan Zupanski, William Ramsey Investigates, House of Mystery with Al Warren, and Darkness Radio," he said. "It was quite surreal to be interviewed by podcasters whom I have been fans of for years."
Burns said that out of respect for the victims and their families, he opted to keep many of their details private and did not directly contact victims' families.
"Given that 45 years have elapsed since these murders, many of the victims' parents are deceased," he wrote via email. "By publishing this book, I'm hoping that the cases are solved before further family members die without knowing what happened to their family members."
To find out more about Burns' book, please click on the following:
The Flat Tire Murders: Unsolved Crimes of a South Florida Serial Killer
See More Blogs by Michael Burns:
Michael Burns is a Partner at Bradford & Barthel's San Jose location. Before joining B&B, Michael practiced civil litigation and employment law. If you have questions about workers' compensation defense issues or have information on the Flat Tire Murders, feel free to contact Michael at mburns@bradfordbarthel.com or (408) 392-8202.
Viewing this website does not form an attorney/client relationship between you and Bradford & Barthel, LLP or any of its attorneys. This website is for informational purposes only and does not contain legal advice. Please do not act or refrain from acting based on anything you read on this site. This document is not a substitute for legal advice and may not address every factual scenario. If you have a legal question, we encourage you to contact your favorite Bradford & Barthel, LLP attorney to discuss the legal issues applicable to your unique case. No website is entirely secure, so please be cautious with information provided through the contact form or email. Do not assume confidentiality exists in anything you send through this website or email, until an attorney/client relationship is formed.