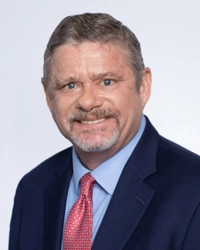 The Envelope Please.
The red carpet was rolled out and leaders in legal technology from around the world came to Las Vegas last week to participate in the International Legal Technology Association's (ILTA) 1 2010 "Strategic Unity" conference and to learn who would receive the industry's highest honors and accolades. When the envelopes were opened and the winners announced, Bradford & Barthel, LLP (B&B) had won…TWICE!
ILTA presented both B&B and the firm's Director of Knowledge Management, Eric Hunter, with ILTA's 2010 Distinguished Peer Awards. Competing with huge
international firms employing hundreds—and even thousands —of employees, B&B and Eric Hunter managed to edge out the competition to receive the "Innovative Member of the Year" prize and the "Knowledge Management Champion of the Year" title.
The "Innovative Member" and "Knowledge Management Champion" awards recognize B&B's evolving Cloud-hosted collaboration platform. This cutting-edge approach expedites communication, as well as search and knowledge-sharing both internally and with our clients, all at a fraction of the cost traditionally incurred. This has led to a culture of change at B&B. The firm employs Google Apps as the Cloud-hosted collaboration platform to drive these changes. Mr. Hunter's award represents the culmination of hundreds of hours of work researching, implementing, and championing B&B's novel Cloud-hosted collaboration approach to knowledge management.
"On behalf of ILTA, I'd like to congratulate this year's Distinguished Peer Award winners," said Randi Mayes, executive director of ILTA. "We are proud to recognize exceptional technology projects and the champions of those projects, and I applaud and celebrate our winners for sharing their successes."
Can Cloud-Hosted Collaboration Cut Costs, Streamline Processes, and Bridge Both People and Information?
Yes!
B&B's Managing Partner, Mark Fletcher, noted that, "Mr. Hunter's Knowledge Management Department has created a culture of change within the firm, offering a new approach to knowledge sharing, and has already saved B&B an estimated cost savings of 10 to 1. We project continued breakthroughs in knowledge-sharing and cost-savings via our ongoing evolution into collaborative Cloud solutions within the firm and with our clients. With 77 attorneys and 14 locations throughout California, B&B faces the challenges in bridging attorneys, departments, and clients together. Cloud-hosted collaboration is the future… and we're leading the future at B&B."
Want More Information?
Contact Eric Hunter (ehunter@bradfordbarthel.com) or Don Barthel (dbarthel@bradfordbarthel.com). Also be sure to check out the September 9th and 10th Chilli IQ conference in Australia where Mr. Hunter will present on Collaborative Cloud Computing, Google Apps, and the cost savings and increased utility they bring to B&B and our clients. 2
Congratulations, Eric!
---
1 ILTA, is an international organization that, for the past 3 decades, has led the way in sharing knowledge and experience for those faced with challenges in their firms and legal departments.
ILTA's international membership comprises firms of all sizes and all areas of practice, each sharing a common need to have access to the latest information about products and support services that impact the legal profession worldwide. At over 1,200 entities and 12,000 individuals in membership, there's a wealth of knowledge and experience to share.
For more information about the Distinguished Peer Award program, please visit http://www.iltanet.org/MainMenuCategory/Awards.aspx.
2 For more information on Bradford & Barthel's strategic drive into collaborative cloud computing and how this vision benefits our clients and the legal industry, check out our follow-up interview with Inside Legal and our push into Legal 2020 with ILTA's Peer to Peer, A Paradigm Shift Brings Staggering Cost Reductions, pages 32 to 33; see also Technology Forecast – Clouds Ahead and Collaboration in the Cloud – A Quick Look at Knowledge Sharing, both of which were published in B&B's BLOG.
Viewing this website does not form an attorney/client relationship between you and Bradford & Barthel, LLP or any of its attorneys. This website is for informational purposes only and does not contain legal advice. Please do not act or refrain from acting based on anything you read on this site. This document is not a substitute for legal advice and may not address every factual scenario. If you have a legal question, we encourage you to contact your favorite Bradford & Barthel, LLP attorney to discuss the legal issues applicable to your unique case. No website is entirely secure, so please be cautious with information provided through the contact form or email. Do not assume confidentiality exists in anything you send through this website or email, until an attorney/client relationship is formed.